New President for Kalenborn Abresist
June 9, 2017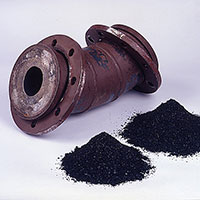 Tetra Technologies Plant Installation
July 27, 2018
Case History: Conectiv Energy
One of the Oldest Installations of ABRESIST® Basalt Lined Ash Pipe In North America — Still In Service after Nearly 4 Decades
Author information – This article was prepared through joint efforts between Abresist Corp., Urbana, IN. and Conectiv Energy's B.L. England Station, Beesly's Point, NJ.
Conectiv Energy's B.L. England Station, Beesley's Point, NJ, started operation in 1962 with a 129-megawatt coal fired unit. In 1964 the station installed another coal fired unit, this one with a 156–megawatt net capacity. Both units have cyclone boilers. The station also has a 155-megawatt oil burning generating unit. During construction, the company laid 8" cast iron pipe to handle the sharp, jagged bottom ash produced by the cyclone boilers. Since they are located on the coast in a salt environment, they use salt water for cooling and in the ash handling systems for transport.
The cast iron pipe couldn't handle the sharp jagged bottom ash from the boilers and the caustic salt water used to sluice it. Since the coal used to fire the boilers is not pulverized, the bottom ash produced by the cyclone boilers is more abrasive than normal wet bottom ash.
Bill Gibson, B.L. England Station Manager of Generation, said, "We knew we were in trouble with the cast iron pipes soon after we built the plant. We couldn't keep them in service. They ruptured a lot. They could not take the constant pounding of the bottom ash."
Basalt Lined Pipe Key to Problem Solving
In 1968, the company installed 840 feet of 8" I.D. ABRESIST® basalt lined pipe. The ABRESIST pre-engineered linings are produced by melting volcanic rock and then casting it into shaped tiles or cylinders, and annealing at carefully controlled temperatures to attain the desired hardness. The basalt linings are used in temperatures up to 350°C/662°F and get smoother with use, ensuring good flowability, avoidance of plugs, reduced pressure losses, and lower energy costs.
The ABRESIST® pipe was installed underground running from the boilers to the sluice pond. The basalt lined pipe could handle the sharp bottom ash sluiced with the caustic salt water and solved the station's problem. It is one of the oldest installations of ABRESIST basalt lined pipe in North America and is still providing excellent service today.
To fire the units, the station burns approximately 600,000 to 700,000 ton of coal per year. The station uses both Powder River Basin (PRB) and eastern bituminous coal. As a byproduct, the plant produces 60,000 to 70,000 ton of slag annually. The station sells all of the slag it makes to a company that washes, sizes, and bags it to be sold as a sandblast medium and for other uses.
Even though the slag gives the station a lot of headaches conveying it, the company still needs to produce the sharpest, hardest, highest quality slag possible so that it can be sold. When PRB was first introduced to the market, the company did a significant amount of testing to ensure that the station could still produce a sellable slag using the coal.
Environmental Regulators wanted to use the PRB in Unit 1, which doesn't have a scrubber. Unit 1 is still in compliance with Federal regulations, but NJ has more stringent requirements. Using PRB coal that has lower sulfur content than Eastern coals would help the station meet NJ regulations. Unit 2 burns 100% eastern bituminous coal and has a SO2 wet scrubber on it to meet state and local regulations.
To further complicate the issue, the cyclone boilers have a very unique requirement. The ash from these boilers needs to melt and turn into liquid and flow into the slag tank. This characteristic of coal is called ash fusion temperature. Eastern coals have a low fusion temperature, but a higher sulfur content and are ideal for use in cyclone boilers. Low sulfur coals melt at a higher temperature and cannot be used in the boilers, but lower sulfur coal would help the station meet NJ requirements.
Gibson said, "We tested the PRB coal before we began using it. It would help us meet state requirements, but we were very concerned. It had to burn and melt, and, yet, we had to be able to continue to sell the slag. We would be in big trouble if we couldn't sell it. We have nowhere to stockpile it. We learned that the quality of the slag from PBR was the same. It was just as brittle, very sharp, and just as hard. It had a little difference in color, but it was marketable and our ash handling facilities were still able to handle it."
Today, the station burns a blend of 30% PRB coal with 70% eastern bituminous coal in Unit 1. That gets the station's sulfur content on Unit 1 down to approximately 1.7 to 1.9% of sulfur in coal and helps them meet regulations.
Dealing with Harsh Abrasives of Slag and Salt Water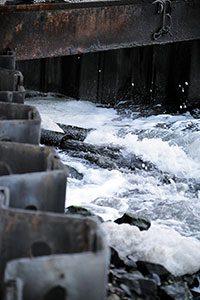 Maintenance costs for any power plant facility are a considerable portion of their overall budget – total Operations & Maintenance Budget at the Beesley's Point location totals more than $30 million. Nearly half their labor dollars can be attributed to maintenance.
To handle the constant problems created by transporting slag, the company schedules downtime periods twice a year. They are down four weeks in the spring to get ready for summer which is their peak period and two weeks in the fall. Gibson says that not many plants plan downtime that frequently, but that their maintenance issues are compounded by the harsh salt water.
Commenting on the abrasion caused by transporting the slag, Dave Hagel, Manager of Maintenance at B.L. England Station said, "Transporting slag is one of the most severe strains you can put on pipe and components. Compound that with the fact that the station is functioning in the harshest environment you can have and you have problems. We have salt water mixed with slag and it slams though the components and pipe at around 160 pounds of pressure. Then it is accelerated through a venturi tube. Components like the grinder, the venturi tube, and the steel piping leading up to the start of the ABRESIST® pipe, wear out regularly. If we didn't do an overhaul every 6 months, we would be stuck. The other components won't last. ABRESIST pipe does. I don't know what you could ever get that works better than the ABRESIST lined pipe."
Since 1968, when the station installed the first ABRESIST® basalt lined pipe, the company has only replaced 84 feet of ABRESIST pipe. At that time only one length of the line had failed. The other ABRESIST pipe was fine, but maintenance officials determined it was best to replace the other three lengths while they were performing maintenance on other sections.
Hagel said, "We inspected the ABRESIST® pipe. The inside of the line was fine. On Unit 2 we could see right through the pipe. There wasn't much to see. For the most part, the only wear we saw was on the face of the flange and that is because they were improperly lined up. If they are installed right and lined up, they won't wear out."
Only one 18-foot section of the ABRESIST® pipe installed in the late 60's had failed. "The outside on the failed pipe had broken out, right out of the inside tank. It was getting hammered with hot salt-water river flow and was in the worst possible environment in mud and salt water. Once we exposed it, it was just as easy to slide it out to the next most accessible joint and replace it. We did that in the 1990's," Hagel said.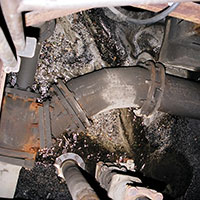 "With ABRESIST® pipe, I have one less headache to deal with and less maintenance expense. I don't worry about it blowing out. We really don't even talk about it or think about it. We don't worry about the ABRESIST pipe because we almost never have to deal with it. The only time we deal with it is when we have something operationally happens prematurely to cause a failure or just the fact that it's almost 40 years old."
"When we uncovered the ABRESIST® pipe, no one even had a history of it. We weren't even sure how to buy it. That's why I know the product is fine because no one knew anything about it. We simply had not had a problem with it," Hagel said.
"From the maintenance side, using ABRESIST® pipe is a no-brainer. Once you install it, you don't touch it. Once its there, it's there! It is a non-maintenance item for us. "
For emergencies, the station keeps two 18 -foot sections of ABRESIST® pipe around. Hagel says that is probably one too many.
Other Potential Usage of ABRESIST® Products
B.L. England Station has considered replacing other areas in the system with Abresist Corporation tiles. Hagel said,"We have an eductor that cleans out the area around the slag run and transports slag that accumulates in the pit into the grinder box. The slag goes up through 2 – 45 degree angles and a 90-degree turn to get back into the grinder box. These elbows wear out because of the water velocity and because of the slag that is being sucked out of the pit "
"Right now, we have gone through stainless steel materials like crazy. We have probably replaced it 20 times since I came here in 1980. Now we have some type of a lined fibercast pipe that has failed once already. We upgraded it and we're going to see how long it lasts. If it fails again, I will check with Abresist Corporation. If Abresist Corp. can fabricate what we need, we will probably never have to touch it again."
Commenting on the impact that Abresist Corp. has had on the maintenance costs of the plant, Gibson said, "Profitability is "king". You have to stay competitive. To be competitive, you have to hold down costs."
"A big factor that helped us hold down costs is that years ago we dealt with the cost of maintaining our bottom ash transport system by replacing cast iron pipes with ABRESIST® basalt pipe. We are still reaping the dividends of that decision today. The ABRESIST pipe is still working for us after almost 40 years of service and still transporting over 70,000 tons of bottom ash every year."