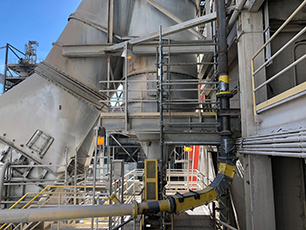 Kalenborn helps solve wear problems at Energy Star-certified plant
May 21, 2019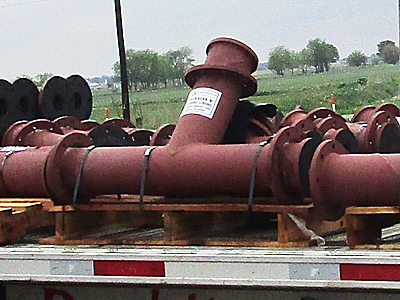 Kalenborn lining solutions stand up to extreme wear conveying titanium ore
November 6, 2019
Biomass producer extends ducting life with Kalenborn solutions combination
At one of its largest biosolids recycling plants, a leading company in the biomass industry has specified a trio of Kalenborn abrasion-resistant solutions to extend the life of critical ducting. The state-of-the-art thermal drying facility is part of a joint venture with a major U.S. city, and the plant handles all the city's biosolids.
The ducting runs between the dryer, where the biosolids emerge at temperatures of 210°F or higher, and the baghouse, where the material cools and is separated. As part of a complete system designed by an OEM, Kalenborn installed about 700 square feet of 5' diameter ducting. For optimal wear-resistance, ABRESIST lining was used on straight runs, 25mm KALOCER on elbows, and KALCRET on the inside radius.
Because it is sourced from municipal and industrial wastewater facilities, the biosolids material includes dirt and small rock particles, which produce heavy wear in conventional steel ducting. The facility previously used ABRESIST for the same application and found that it lasted almost 20 years—exceptional longevity in these demanding conditions.
Kalenborn products' high abrasion-resistance paid off for the customer, substantially improving cost-efficiency.  In fact, the company has now specified ABRESIST lining for additional uses, including lined piping that conveys finished product to silos at its pelletizing plants.