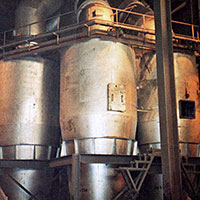 Case History: Lafarge Canada
July 27, 2018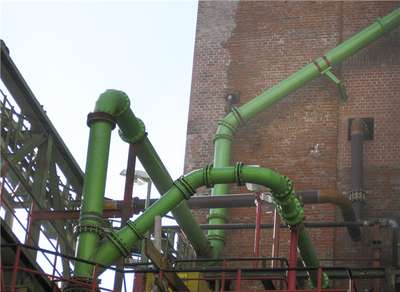 KALENBORN ABRESIST: Wear protection – slide promotion
July 27, 2018
Fording Coal Installation
Thousands of feet of pipeline thread coal processing plants. Keeping material flowing through those coal piping lines can be a headache; sharp, abrasive material wear pipelines until they sometimes blow. When they do, production ceases and magnetite is lost. Such was the problem facing the Fording River operation of Elkford, British Columbia, owned by Fording Coal Ltd. of Calgary, Alberta. In 1992, Fording River produced 22,440 tons of clean coal per day. Clean coal productivity increased from 30.8 tons per manshift in 1991 to 34.7 tons per manshift in 1993.
Located at an elevation of 5,400 feet (ft), the Fording River mine is one of the highest surface mines in North America. It also is said to be the only mine in the world to use a dragline for major extraction of mountainous coal.
The mine produces mainly hard coking coal for export to customers world-wide. Recent sales figures show that 33.6% of total sales is standard coal, 33.9% medium-volatile, 27.1% high volatile coal and 5.4% other. More than 600 112- to 120-car trains are shipped from the preparation plant annually.
H.E. Kennedy, superintendent of processing, said that Fording River has the highest productivity per manshift in western Canada. "And, we are proud of our record." An integral component to maintaining productivity is the processing plant. In operation since 1973, the The Fording Coal operation has the highest productivity in western Canada. Four-circuit heavy-media plants run around the clock, producing just under 23,100 tons of clean coal daily, or between 990 and 1,210 tons per hour, depending on the blend. The recovery rate is usually 67% to 68%.
The preparation plant has a maintenance crew of approximately 40 people. In the early 1980s, the frequent downtime that occurred when replacing the pipe in the plant began to affect productivity and increase maintenance costs, Kennedy said. "When a line or an elbow blew, we had to shut the plant down, and that impacts productivity negatively." The abrasive coking coal was destroying the mild steel straight pipe and elbows at a startling rate, requiring elbow replacements every six to eight months. Mild steel straights had to be replaced annually.
To solve the problem, in 1986, Fording River began to replace existing coal pipe and elbows with fused-cast, basalt-lined abrasion-resistant pipe, elbows and fittings manufactured by Kalenborn Abresist Corporation of Urbana, IN. ABRESIST® pipe and elbows are constructed from basalt rock liners, which are molten cast at 2,400°F and annealed prior to insertion into a steel casing. To test the ABRESIST pipe, Fording River installed sections in the most problematic area of the plant, according to Jim Shoemaker, processing maintenance foreman. "We put the pipe in our worst area first, in the horizontal lines on the heavy-media circuit. It worked. All of the pipe that went in at the start is still here. Using it has curtailed maintenance costs and reduced downtime. We can now plan maintenance."