KALMETALL® TC Tungsten Carbide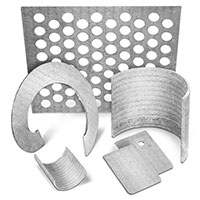 KALMETALL®-TC Tungsten Carbide provides abrasion and impact wear resistance. Its wear properties are determined by the ratio of tungsten carbide to the cobalt binder and can be tailored to each application. Can be used alone or in combination with other wear and corrosion resistant linings. Excellent product for use on fan blades, processing machinery components and in pipes and elbows where extreme abrasion exists.
Longest lasting wear material available, outlasts alumina 5 times or more.

Maintains hardness at high temperatures.

Available in thin tiles, shapes or cylinders and in a variety of grades for different situations.

Attachment by brazing, KALBOND or standard adhesives.

Highly corrosion resistant lining.

Continuous service temperatures to 480°C (900°F).

Can be applied to existing components and in re-engineered parts.